Attorney Bios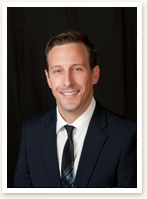 Daniel L. Franks, Esq. grew up locally, attending Suncoast High School, the University of Florida, graduating cum laude, and Florida International University, College of Law. Prior to joining the Zaretsky Law Group, Mr. Franks practiced in the areas of personal injury and PIP (Personal Injury Protection) insurance litigation, pursuing justice for individuals and local businesses against the insurance industry. Now, Mr. Franks has the opportunity to apply his experience and skills to his true interest – real estate litigation and transactions. Mr. Franks represents buyers, sellers, lenders, landlords, tenants and corporations seeking counsel in a wide variety of transactions and disputes ranging from foreclosures, evictions and closings to quite title and breach of contract actions.
Mr. Franks lives in West Palm Beach with his wife Rebecca, son Benjamin and dog, Moses. As an outdoor enthusiast and admitted soccer fanatic, Mr. Franks enjoys many local, water based outdoor activities, such as kayaking and spearfishing, along with traveling – no distance is too far for a big football match.
Mr. Franks supports CAMERA, Committee for Accuracy in Middle East Reporting in America; local environmental protection efforts, a volunteer at John D. MacArthur State Park; and the University of Florida as an Alumni Member.